Dear S6 graduates, May the Lord's peace be with you! Today is your last day at BHS. What a milestone in your life! There must be many sweet memories. As you look back at your years here, perhaps they are full of joy and happiness? Or perhaps there is nothing special or particular? In any case, now all these belong to the past. In English we have a saying: let bygone be bygone! Your years here will, however, live in your memory for all the days of your life. Doubtlessly, they have become part and parcel of your adolescence. I believe you will cherish each and every second you spent with your teachers and classmates here. Although today is your last day at Bethel, please be reminded that your secondary education has NOT completed yet. There is a real challenge ahead: DSE. I wonder how you are rising to this challenge. Whether you like it or not, this public exam is the first major test of your life! Please do remember our slogan of this school year: Never give up! Always cheer up! Grapple with this exam with all your patience, persistence, and perseverance. Myself a product of Hong Kong exam system, I completely understand that exam can be very trying, tiring, and tedious. However, never give up! As long as you take one more step, your grade could end up one level higher!!! Let me just briefly share some of my personal experiences. I used to be a PE teacher and I love sports. I did quite well and won quite a number of medals. Yet the most memorable moment is NOT standing on stage and receiving medals. What always stays in my mind is the painful but meaningful process of competition. During a race, I could be having a cramp but holding on unto the end. At the end of a race, I often could not even sit down and breathe properly. Sometimes, in the midst of training, I even vomited. All these memories still stay with me --- they are deep down in my mind, for these mean that I really poured out my will, my body, and my strength. How proud I am of my sacrifices! My dear S6 graduates, despite all the trials and difficulties of DSE, do face them with a strong and indomitable will. Go through this first test of your life and be proud of what you have done! At the end of Last Supper, Jesus said to his fearful and worrying disciples, "Be of good cheer!" (John 16: 33) Regardless of how hard the journey is, it must end sooner or later. As long as we keep on going, there is ALWAYS a beautiful scene and even scenery ahead. In due course, when you look back, there will be no trace of regret and remorse. Isn't that great? Finally, even though today is your last day here, please be reminded that you are always part of BHS. This school is your MOST secure stronghold, and your teachers are ALWAYS your sources of help and support. In future, when facing any difficulty or feeling there is no way out, do NOT hesitate to talk with your teachers. On the other hand, if there is any cause for celebration, DO tell us so that we can rejoice with you! The future is in your hands --- everything is up to you. YOU must make your own dreams come true. Be filled with courage and self-confidence. This school is always eager and ready to give you the most earnest and sincere blessing. Finally, needless to say, our prayers are with you. Let us overcome DSE! The Bible says, "Cast all your cares upon God, for He cares about you!" (I Peter 5:7) Pray you entrust this exam unto the Lord. Lay DOWN your burden, trust in God, and Rise to this exam. Tackle this exam with all your mind, with all your will, and with all your strength! 'Do your best,' so runs a famous saying, 'and let God do the rest!' Wish all of you good health and the grace of God be upon you all the days of your lives! 19 March 2021
I am very happy I could share with you again in this morning. It will be a great challenge to you all if you could maintain your concentration of my sharing in the coming fifteen minutes.
Today, the topic namely "take one step more" that I am going to share with you just started with a common task of our janitor, Uncle Lam. It was noted that Uncle Lam is used to preparing for two bottles of water for cleaning the dropping of birds at the basketball court. In fact, with the attitude of "one step more", Uncle Lam is willing to do further work so that the hygienic and cleanliness of school campus can be maintained.
So, how do you study the attitude of "one step more" in school? Keep the campus clean that you can do. Do take "one step more "that you may pick up the rubbish into rubbish bin. Do take "one step more" that clean the table while your schoolmates leave the rubbish after lunch. Or you may line up before the bell ringing in the morning assembly.
In fact, studying "take one step more" is a kind of attitude and belief. Maybe you think the current situation is quite fine to me that there is no need for you to do more. If you uphold this belief, you would stay in your original place but never reach the finishing point.
You are encouraged to take one step more as you may one step closer to the end. As taking one step more, you may discover the world is different and you may discover more.
Last but not least, two situations stated like these. "One walks for 10,000 steps and 10000 people walk for one step" It seems that ten thousand steps were made in these situation. But I would point out that the former one that the person has no support and only work alone. On the contrary, the latter one that the people work together and the effect would be greatly different.
For the sake of yourself, family and school, it is encouraged to you to challenge yourself to take one step more in your daily life.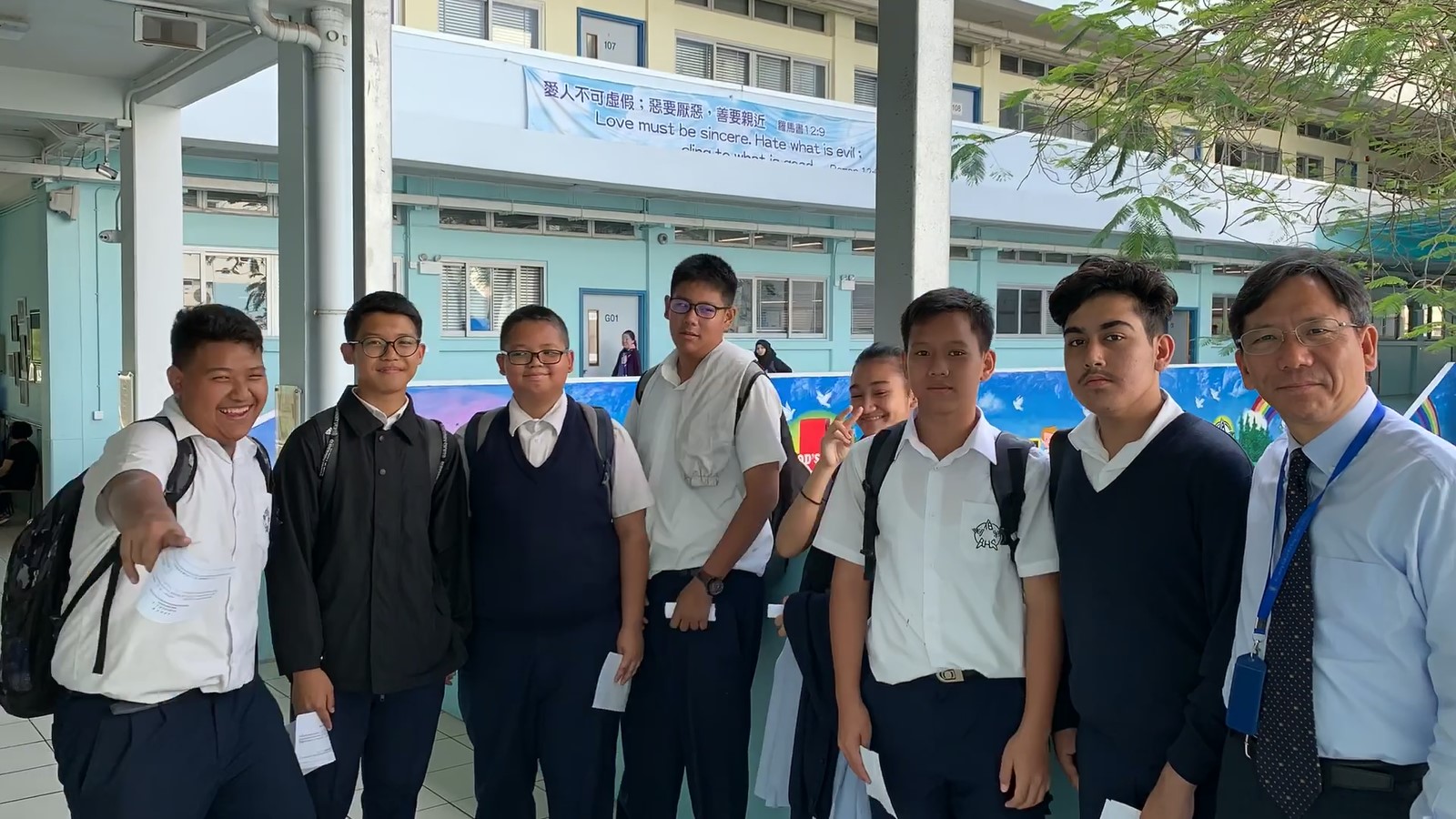 The photo was taken on 13/11/2019 10:15
Good morning teachers and students! I am delighted and honored to speak with you again today.
First, I would like to introduce these students who are with me on stage this morning. Perhaps you may ask, "Why do I introduce them to you today?"
Do you still remember many teachers and students couldn't come back to school on 13 Nov 2019 due to the unstable roads and traffic conditions? The west rail line was suspended on that day so these students were forced to alight at Kam Sheung Road Station. Guess what? They didn't go home but they walked to school together instead.
It is approximately 6.5 km to walk from Kam Sheung Road Station to our school. Well, that means they have to walk for 16 laps on a 400-metre running track. In fact, they spent 1 hour and 15 mins to get back to school on that day.
On further reflection, I notice that they have many alternatives practically. For examples, they can stay at home or they can go back home when they encounter traffic disruptions on the way to school.
However, they decided to overcome the obstacles by walking back to school. Hence, I do appreciate the perseverance they have demonstrated which is also the underlying belief of their own persistence in life.
Dear students, what choice will you make if you encounter difficulties in the future? Will you stay persistent in adversity?
Another reflection will be the importance of companionship just as the bible verses in Ecclesiastes 4: 9-10 remind us "Two are better than one, because they have a good reward for their work. And if one has a fall, the other will give him a hand; but unhappy is the man who is by himself, because he has no helper."
Dear students, you are not alone! I am sure you can find your companions in life. I am strongly convinced that you can overcome your obstacles if you cling to your belief and walk with your companions. I repeat "You are not alone!"
Last but not least, persistence is an attitude which will also lead you to the path of success. It's time to set higher expectations to yourself. Let me end my speech by sharing a famous quote with you "High achievement always takes place in the framework of high expectation."
Good morning, Pastor Chan, teachers and my fellow students.
This is the day of the opening ceremony of the new academic year. Although we could not meet one another in school, we are still intricately connected.
To begin with my speech, I would like to share with you the outstanding HKDSE results of our S6 graduates. The overall passing rate of our students on average is 50%. 40% of students passed in 9 subjects out of 12 subjects and 50% of students attained Level 2 in 5 subjects. As the continuous improvement of the students' is recognized, I am grateful to announce that three graduates were admitted to the local university. Tse Man (from class 6B) enrolled successfully in the School of Communication of Hong Kong Baptist University. Kwong Wing Ki (from class 6B) enrolled successfully in the English Department of Chinese University of Hong Kong. HINA RABAEL (from class 6A) enrolled successfully in the Faculty of Science of Hong Kong Baptist University. More than 5 students were admitted to the universities in the Mainland and Taiwan. In fact, with their hard work and perseverance, they all achieved excellent academic results.
A new slogan of the theme of year is "Never give up, Always cheer up." By observing the significance of the slogan, you are encouraged to show your perseverance and not to give up easily. The theme of year will be further discussed in the assemblies later.
In fact, I just wonder how you overcome the obstacles in your life. Would some sentences like "my ability is really limited", "No matter what I try, I would not do well" or "I choose to give up" always appear in your mind. Professor, Carol Dweck from Stanford University once stated that no matter children love to learn or not, all children will encounter setbacks and challenges in their learning process. She also pointed out that students with a growth mindset would try to solve their problems in different ways or seek help from others. They believe that they can do better in the future. As the former one is bounded to a fixed mindset, it would limit their opportunities whereas those with a growth mindset would fully exhibit their capacities.
Do not let your thoughts in the past become your constrains. Believe in yourself and work hard to achieve your goals. I hope you can learn to embrace challenges and grow in times of adversity. I am sure you can all tap your potential to the fullest and have a fruitful campus life.
Wishing you all be strong and courageous in this academic year. One of apostles in the Bible, St. Paul, encouraged us in his letter by saying that "Letting go those things which are past, and stretching out to the things which are before" Regardless what your situation is, do not attach to the failure in the past and do not indulge to the radiance of your success. I really believe "in all your ways give ear to Him, and He will make straight your footsteps." "(Proverbs 3:5-6)